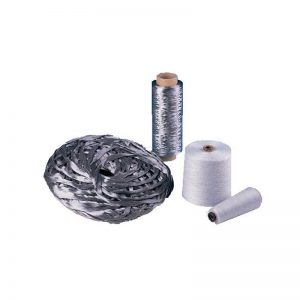 Stainless steel fiber main material:

316L, 302, 304, 430, 434 and other stainless steel

Metallic fiber product introduce:
The SS fiber is made of stainless steel wire in a bundle drawing process and has a diameter as small as 1 μm to 40 μm. It has a metallic color of stainless steel and a bright surface. Due to the micron-diameter of the stainless steel wire, new properties are produced in addition to the original metal properties, which not only maintains the electrical conductivity, thermal conductivity, corrosion resistance, etc. of stainless steel, but also has a softness and high specific surface similar to that of chemical fiber. The characteristics are the substrates for producing various stainless steel fiber products. Can be widely used in textile, filtration, metallurgy and paper making, covering all fields of industry, civil and military.

Stainless fiber can be used to make the following products:
1.Pure stainless steel fabric
2.Blended stainless steel fabric and non-woven fabric
3.Metal fiber sintered felt
4.Electromagnetic shielding, anti-static conductive plastic, anti-counterfeiting, anti-static paper
5.Fiber reinforcement
6.Anti-static brush, anti-static wrist strap, etc.
7.High temperature heating element
8.High temperature mat mold, high temperature conveyor beltm
SUS yarn technical parameters:

No.
diameter
(μm)
Core number
(f)
strength
(cn)
Elongation
(%)
Meter resistance
(KΩ/m)
1
6.5
3500~7000
≥4.5
≥1.0
20.68
≥3.0
≥0.8
2
8
2250~4500
≥6.5
≥1.0
13.65
≥4.0
≥0.85
3
12
2000~4000
≥17
≥1.1
6.07
≥13.5
≥0.9
4
22
500~10000
≥50
≥1.0
≥35
≥0.8
1.81