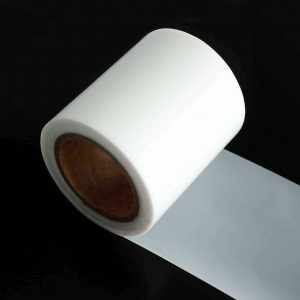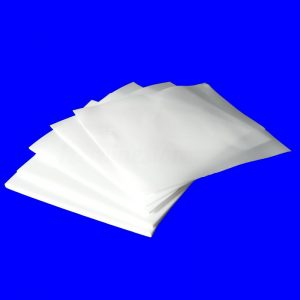 PTFE Film

PTFE membrane is made of PTFE. It is specially processed, biaxially stretched, and has a unique node fibrility, smooth surface, chemical resistance, breathable impermeability, large gas permeability, flame retardant, high temperature resistance and resistance. Strong acid and alkali, non-toxic and other characteristics, the product produced, high filtration efficiency, up to 99.99%, near zero emissions; low running resistance, fast filtration speed; long service life, reusable, thus reducing operating costs. Mainly used for flue gas filtration of various industrial furnaces such as chemical, steel, metallurgy, carbon black, power generation, cement, waste incineration, etc.

PTFE film specifications:

1) density: 0.2-1.5g/cm

2) width: 12 19 25mm

3) length: 5 – 1500m

4) thickness: 0.02 – 0.2mm

5) color: white or colorful

6) heat-resistance: +370oc

7) cold-resistance: -190oc

8) high pressure resistance: 150 – 200kg/cm? 9) tensile strength: =8mpa or according to the demand

10) percentage elongation: =25%


PTFE air filter membrane:
Made of PTFE as raw material and biaxially stretched by our special process, the unique node of PTFE film is made of fibril, smooth surface, chemical resistant, breathable, water permeable, flame retardant and high temperature resistant. Resistant to strong acid and alkali, non-toxic and other characteristics, the product has high filtration efficiency, up to 99.99%, close to zero emission; low running resistance, fast filtration speed; long service life and reusable, thus reducing operating costs. It is mainly used for flue gas filtration of various industrial furnaces such as chemical, steel, metallurgy, carbon black, power generation, cement, and garbage incineration.

PTFE purification filter membrane:
The purification filter membrane is made of polytetrafluoroethylene as a raw material, and after being expanded and stretched to form a microporous film, the film is coated on various fabrics and substrates by a special process to become a novel filter material. The membrane has small pore size, uniform distribution and large porosity. It can filter all dust particles including bacteria while maintaining air circulation, which is used for purification and ventilation. It is widely used in pharmaceutical, biochemical, microelectronics and laboratory consumables. And other fields.


PTFE clothing film:
Made of PTFE as a raw material, it is made by our company's special process and biaxial stretching. The film has a thickness of 20-100um and a porosity of 85% or more. There are 14 micropores per square centimeter. The pore size is concentrated at 0.2-0.3um, which is much larger than the diameter of water vapor molecules (0.0004um), which is much smaller than the diameter of water molecules (20-200um). Therefore, the modified film has excellent waterproof and moisture permeability. The microporous film produced by the biaxial stretching method has the characteristics of waterproofing, moisture permeability, windproof, warmth and the like by utilizing the pore-forming property of the polytetrafluoroethylene plastic resin, and is compounded with other fabrics to become a widely used apparel fabric.
PTFE film composite clothing fabrics, widely used in sportswear, cold clothing, military, fire, public security, medical care, anti-biochemical and other special clothing, shoes and hats, gloves and sleeping bags, tents and so on.